The Kecak dance, locally referred to as Tari Kecak, is a captivating traditional Balinese art performance. It is also nicknamed 'the monkey chant dance' for its dominant chanting or 'fire dance' for its occasional use of fire as a centrepiece prop. The Kecak was created around 1930 and is now internationally recognised as one of Bali's top signature dances (alongside the Barong and Legong).
The Kecak dance is unique in that it has no other musical background or accompaniment besides the chanting of its male dancers, intoning a keh-chack polyrhythmic choir throughout the performance. The Kecak's storyline is from an episode in the Ramayana epic. It's frequently highlighted by Balinese arts and cultural venues.
Interested in this tour? Book it here.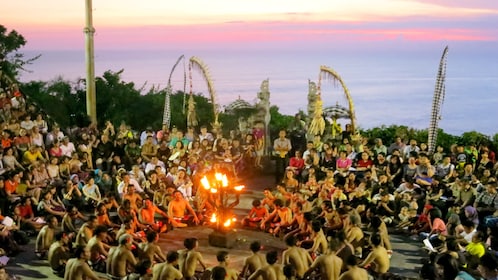 per adult
Free cancellation
Book
The Kecak dance performance
The Kecak is simply accompanied by the a cappella chorus of male dancers including a leader who sets the tones. There's one soloist, one in charge of intoning high and low notes, and a narrator. The men wear chequered sarongs and are seated in tight, concentric circles with a central space reserved for the protagonist characters.
The main characters depict Rama, Sita, Ravana, Lakshmana, Hanuman and Sugriva. The storyline generally starts from when Rama goes to the woods with Sita, his wife, and Lakshmana, his brother. There, Ravana kidnaps Sita and imprisons her in his castle. Rama seeks for help and sends Lakshmana to find his friend, Sugriva, the king of the Monkey Kingdom. Hanuman, Sugriva's commander, is sent to check on Sita in Ravana's palace and Rama finally begins the battle.
At first, Ravana wins, but Sugriva and Hanuman then come to Rama's aid with monkey troops. Sugriva triumphs. The male chorus repeatedly chants chack! representing the sound of the monkey troops. The soft rattling sound of bells around the protagonists' ankles is the only addition to the Kecak's choral background.
Good things to know about the Kecak dance
Kecak originated from a Balinese ancient ritual called Sanghyang in which dancers usually fall into a trance. It is also a form of exorcism and can go on for hours or even days, and used to only take place within temple grounds.
In 1930, German artist Walter Spies created a dramatized, touristic version of Sanghyang that adopted the Ramayana epic as its main story. He worked together with Balinese dancer Wayan Limbak and they took their innovation on a world tour. Soon after, Kecak shot to fame.
The Kecak dance has been developed and modified since the 70s. Some performances now use different storylines or taking another part of the Ramayana epic. Some variations even use an all-female Kecak cast. There have even been attempts to break records by presenting colossal Kecak performances, involving thousands of dancers.
Among the best venues to watch Tari Kecak are the amphitheatres adjacent Uluwatu and Tanah Lot temples. Others include GWK Cultural Park, the Pura Dalem Ubud temple and the Padangtegal Stage in Ubud, and many others. Kecak performances in the Gianyar regency are usually more spiritual-oriented than dramatic.
Rate This Place:
( votes)